How Often Should You Rotate Your Tires?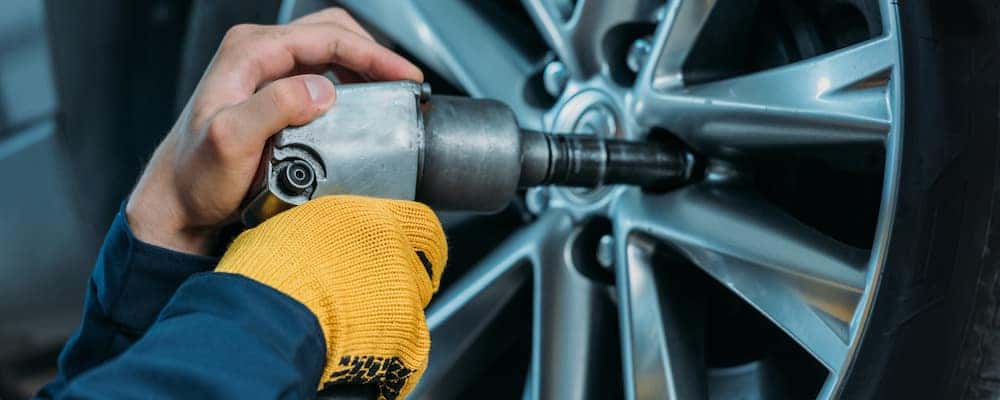 Proper tire care means scheduling a tire rotation every six months. How many miles to rotate tires depends on your driving habits, but every 7,500 miles is a good rule of thumb. Regular tire rotation improves the performance of your new Chrysler, Dodge, Jeep, or Ram vehicle and also lengthens the life of its tires. Uneven tread wear occurs when tires aren't rotated, and results in vibration, poor handling, and early tire failure. Read on to learn more about how tires are rotated and tire replacement!
How Does a Tire Rotation Work?
Tire rotation involves repositioning your car's tires and wheels. Most cars house their engines in the front, forcing the front tires to bear the most weight. This means the front tires will wear more quickly — unless they're rotated. The goal of tire rotation is to prevent uneven wear by changing the positions of the tires according to the correct tire rotation pattern:
Front Wheel Drive Vehicle — Move the front tires to the back; move the rear tires to the front and swap sides.
Rear Wheel Drive Vehicle — Move the rear tires to the front: move the front tires to the back and swap sides.
4-Wheel Drive Vehicle — Move the rear tires to the front: move the front tires to the back and swap sides.
Signs You Need Tire Replacement
Manufacturers recommended tire replacement every 25,000 to 50,000 miles. Of course, these estimates vary depending on vehicle type, driving habits, climate, Aitkin road conditions, etc. If you notice any of the following red flags, skip tire rotation and schedule tire replacement:
The tires are bald
The sidewalls are cracked and damaged
Your car vibrates and shakes even on smooth roads
Your tread wear warranty is expired
You're driving on a spare tire
You see signs of uneven wear
Receive Expert Tire Service at Tanner Motors in Brainerd!
Contact us if you have any questions about when to rotate tires or about your owner's manual. We can help you schedule a visit near Nisswa and Crosby. While you're here, take a moment to browse our current service offers!
More from Tanner Motors
Motor oil is a vital component to your car which needs to be checked and changed in regular intervals to ensure the longevity of your engine. One thing all car owners should know is how to check the oil level in your car, so you know that you have just the right amount. If you…

Oil changes are a critical component of vehicle maintenance, and the team of certified technicians at the Tanner Motors service department in Brainerd is here to help you understand why. An oil change comes with a number of benefits, including: Powertrain durability Increased performance Better fuel economy More reliability Find out more about how oil changes…

The 2019 Chrysler Pacifica configurations have many features in common, such as a 287-hp 3.5L V6 engine, Uconnect® 4 with smartphone integration, and a towing capacity of 3,600 pounds. But what about their differences? To help Aitkin families choose their perfect new Chrysler Pacifica, Tanner Motors has broken down each trim level's price and features below!…